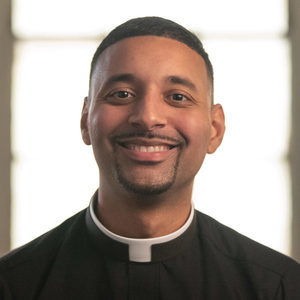 Fr. Josh Johnson
Special guest
While Fr. Josh was raised Catholic, he didn't like the Church growing up. One day, in adoration, he fell in love with Jesus and received the call to become a priest. Now, Fr. Josh is the pastor for Our Lady of the Holy Rosary Catholic Church in Louisiana, and he is a presenter in two of Ascension's programs: Altaration, and YOU: Life, Love, and the Theology of the Body. He is the author of Broken and Blessed: An Invitation to My Generation and Pocket Guide to Adoration.
Fr. Josh Johnson has been a guest on 2 episodes.
June 5th, 2020 | 1 hr 7 mins

bible, bible study, catholic, catholic bible study, catholic church, catholic family, catholicism, difference, division, fr. josh johnson, jeff cavins, racism, scripture, unity

On today's show, Jeff is joined by our very own Father Josh as they reflect on the racial divide in our country, and the events of the past week. We continue to mourn the passing of George Floyd and all those killed under racist motives, and pray for peace, unity, and forgiveness in our country.

March 22nd, 2019 | 37 mins 44 secs

ask fr. josh, body of christ, broken and blessed, catholic, catholic books, catholic interview, church, church scandal, confession, fr. josh, fr. josh johnson, interview with a priest, priest, sacraments, sin, suffering, we are one body

I'm speaking with Fr. Josh Johnson, pastor of Our Lady of the Rosary Parish in Baton Rouge, Louisiana. Fr. Josh has a new book out, Broken and Blessed, about how we are broken and our Church is broken, but that the mercy and blessings of God surpasses all our failings. We discuss this theme of brokenness: how to respond to it in others, what to do about it in the Church, and what God thinks of us when we fall.